Title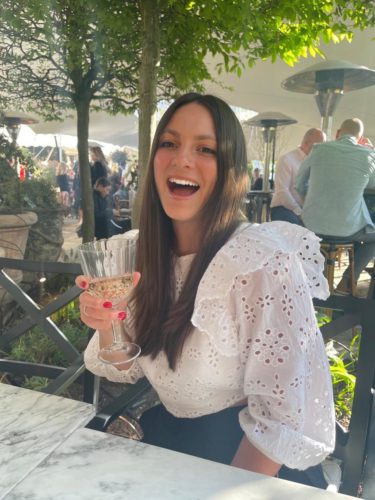 Whether we are putting designs together with clients over coffee in 131, celebrating at a new collection launch event we have put on in The House or staying in one of the individually designed bespoke rooms at The George; The Lucky Onion is a huge part of our day-to-day business in Cheltenham. 
From Soho farmhouse to The Lucky Onion, we at Duckers have known Laura for a long while now and she always makes sure our clients are well looked after with their bookings within the group.
Laura comes from a background of design and has experience in styling having helped set up Topshop/Topman personal shopping which she also launched in Australia and Canada too! We take a look below at what style means to Laura and what she loves seeing across TLO's locations.
Hey Laura, how are you?
I'm doing really well thanks Jordan. I'm excited to be back to work and see the hospitality industry come back to life with a bang, after this difficult time for us all.
So what is your role at The Lucky Onion Group?
I look after Guest Relations and manage all PR for the group. Working closely with most departments across the business, I get to work on events and help to deliver the right environment for all our guests, while also liaising with press enquiries. Every day is very different which is what I like most about my role as it keeps me busy, while being fun at the same time.
For anyone that is new to TLO, what are you guys about?
We are owned and run by Jade & Julian Dunkerton and the Lucky Onion is a family of boutique hotels, elegant country pubs and bars raised and routed in the heart of the Cotswolds. We are ever expanding and currently consist of six properties, each with its own distinct character and personality. I'd say food & drink play a huge part of our DNA and we have a genuine passion for great design and quality.
What is your plan for the coming party season, summer ahead?
We have just been talking about this recently and are planning some fun summer events across the properties. Think 'Glasto' again at No.131/ drinks festival / Racing (after all the Hollow Bottom is our racing pub and we are in Cheltenham) are all themes on our agenda. The terraces at No.131 are particularly buzzing already and in the summer sun is the place to be.
What sort of fashion do you love seeing at your venues?
I love an eclectic mix because we get a range of different guests to each property. For me personally I love to get dressed up with some heels and lipstick for No.131 as it's our party venue, and for our country pubs it's a more dressed down approach in a pair of jeans and casual jacket (we usually take the pup and head out for a walk pre or post Sunday roast). You wouldn't be out of place in some plus fours in The Wheatsheaf though.
Do you have a 'work' wardrobe and an 'off-duty' wardrobe?
I tend to buy things that can shift between the two. I love tailoring, I have always loved a statement blazer to wear with jeans or tailored trouser and trainers. I have everything from a Green Velvet/ 5 different black blazers to a white tux jacket, which I once wore to the Brits after party years ago and didn't get the memo the waiters would be wearing the same (I definitely owned it more though)! For work though I tend to wear jeans, t-shirt and blazer with fresh white trainers or black biker boots in winter.
What's your approach to building a wardrobe?
With nearly 10years previous experience of being a stylist & personal shopper in London I always tend to buy key pieces with the longevity to last years and then build your summer or winter capsule wardrobe around those with a few key on trend items each year. I love the idea of Duckers Style and being able to design my own key items along with yourself which can then be handed down in years to come, as I know they would be timeless and classic pieces I will cherish.
What's next for The Lucky Onion and Duckers?
We have our joint summer event planned which I'm looking forward to and introducing some of our VIP guests to your Brand and I know they are going to love Duckers.  We also have a fun racing season ahead of us full of events and parties for us to enjoy as well as our clients ?
With their heart in the Cotswolds, that Sunday walk down to the country pub may seem a chilled affair but we have some top tips on pieces in the wardrobe that will keep you clued up on the trendy atmosphere of The Lucky Onion.
THE STORM SYSTEM – Developed by Loro Piana, this technical fabric is actually a very lightweight 100% wool composition. With the storm system shield treatment penetrating the fibre, creating a protective membrane from rain, dirt and stains.
We are able to use this fabric to make anything from Overcoats, Anorak's or even Overshirts to make that wet (tipsy) country walk home a little easier!
Tones in Khaki, Navy and Grey make the garment easy to dress with any combination of outfit.
KNITWEAR – Our 100% Merino wool knitwear is available in various designs such as the Half Zip, Long and short sleeve polo, crew neck and roll neck. These variations are fantastic as a versatile base to mix and match with your wardrobe and with the natural stretch – so durable and comfortable!
Visit https://www.theluckyonion.com to learn more about The Lucky Onion and follow @theluckyonion to keep up to date on socials.